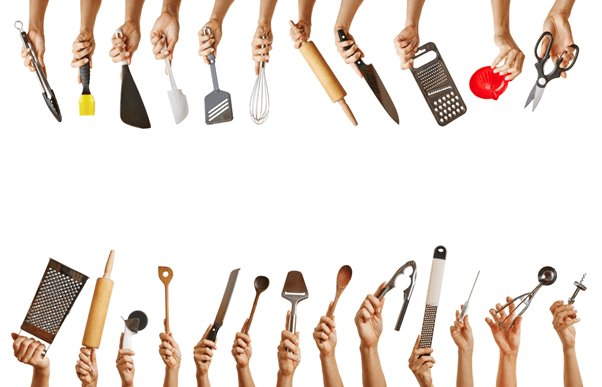 Cooking is one of those skills that you can show off any chance you get, and people will appreciate you for it every time.
Nonetheless, to be a good cook, you will need to put in the time. This can even mean taking an online cooking course taught by professionals to master your skills in the kitchen.
In the meantime, we will share some basics with you.
Kitchen Staples: What Should I Have on Hand?
You will need the following cookware for the majority of your cooking:
Needed for peeling, carving, and coring.
You will do nearly all your slicing and cutting using this knife.
The best knife to use for cutting fresh bread as it prevents you from crushing the bread. Use it for other crushable foods as well, such as soft fruits and tomatoes.
You will be using this skillet for all your sautéing or frying needs.
Used to cook rice, pasta, sauces, soups, and vegetables.
10-quart Stockpot with Lid
This pot will also come in handy when making stocks, vegetables, soups, and vegetables.
Liquid and Dry Measuring Spoons and Cups
Being a master chef is all about using the right quantities. These materials will ensure that you do not mess up your measurements.
When looking to go big, such as on Thanksgiving, you will need this bad boy to cook up that bird. Its high sides ensure that you do not lose the juices from your meal.
It is all about accuracy. Do not rely on your senses to estimate the meat's temperature when grilling.
Handy for straining your soups and sauces, or when rinsing pasta.
Get some pots and pans too while you're at it. Ensure to always go for quality products.
Appliances and Tools to Make Your Cooking More Pleasant
The next on the list of kitchen essentials are your appliances. Ensure that you have the following:
A refrigerator is necessary for every household. Apart from keeping food fresh, it is also essential when marinating meat.
These appliances come in different forms and sizes, and, as such, the one you go for will be a matter of preference.
Some people prefer using gas for cooking since its flame is adjustable, which allows for a higher degree of control. Nonetheless, some homeowners prefer staying away from gas energy due to the risk it poses, especially if there are kids around.
To ensure that you do not run up a bill, look for the cheapest gas in Ohio. Check out the Apples to Apples gas rate comparisons of providers to find the right supplier.
Those who do not use gas alternatively use electricity for cooking. Electric heat appliances typically have sleek designs, which can enhance your kitchen's décor. Again, the choice between gas and electric heat is all a matter of preference.
No one will blame you if the last thing you want to do after making a stellar meal is wash dishes. Consider having a dishwasher to do that work for you.
Tips and Tricks for the New Master Chef in Training
The following kitchen tips will ensure that you do not miss a beat on your journey to mastery:
Ensure That You Have Everything Before You Begin
Before you start cooking, first confirm that you have everything the recipe requires available. This will prevent inconveniences.
Start with Simple Recipes
As a beginner, you will need first to get the hang of it. Begin with simple recipes before working your way up.
The sharper the knife, the better the preparation experience.
Taste as You Cook. Otherwise, how else will you tell that your food is panning out the way you want it?
Be Creative
As you get better, you will eventually want to play around with different ingredients to see what you can create. Do not let anyone stop you. Have fun!
Remember to use all your senses when cooking. Do not be on autopilot as accidents do occur due to carelessness.
Closing Statement
You will undoubtedly have a lot of fun whipping up meals for yourself and your loved ones. However, mastery takes a long time. Therefore, you will need dedication to your craft to be a good chef. While at it, ensure that you also do some healthy cooking, not just your favorite cheat meals all the time.